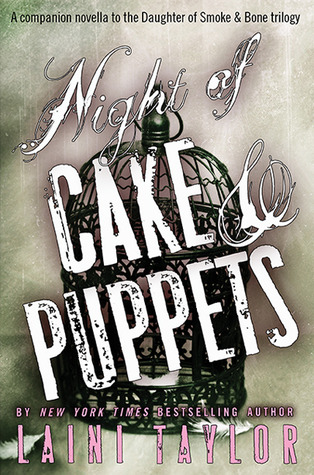 Title: Night of Cake & Puppets
Author: Laini Taylor
Publishing Information: November 26th 2013 by Little, Brown Books for Young Readers
Genre: Young Adult, Fantasy, Paranormal, Romance

Series Information: novella 2.5 in the Daughter of Smoke & Bone trilogy
Format: ebook, 89 pages
Source: Purchased for my personal library
Recommended For: Readers looking for a deeper look into Zuzana and Mik's relationship as well as the closeness between Zuzana and Karou in Daughter of Smoke & Bone
Related Reviews: Daughter of Smoke & Bone (Daughter of Smoke & Bone 1), Days of Blood & Starlight (Daughter of Smoke & Bone 2)
In lieu of a traditional review, I am going to write a mini review for Night of Cake & Puppets and Dreams of Gods & Monsters because at this point I almost think it is silly to go in depth about the conclusion to a well known series. Bottom line is, if you haven't read this series yet – get on it. Immediately.
"I want to do mysterious and improbable things alongside a fierce and beautiful girl who looks like a doll brought to life by a sorcerer."
Night of Cake and Puppets went way beyond my expectations. It is no question that Zuzana stole my heart while reading Daughter of Smoke and Bone. How could she not, she was ultimately my spirit animal, I too am a neek-neek at heart. I too remember what it is like to feel FEELINGS for the first time, especially when they are real feelings and they are for another human who isn't belonging to my life long circle of the family I had made for myself. I loved the way in which Zuzana kept her strength throughout the novella and placed a treasure map for her new love with herself as the treasure, for what greater treasure is there? I loved how Mik and Zuzana were both experiencing that new love excitement, the kind that comes from the newness but the surety that something wonderful is about to happen. I loved how romantic Mik was to Zuzana's intensity, and how her passion made him more bold. I loved how their relationship was so different from Akiva and Karou's, more human, but still so magical. This novella also gave the reader a more in depth look into Karou and Zuze's friendship which was perfect given how much they relied on one another in Dreams of God's and Monsters. In short, I loved everything about this novella. I loved every bit of it. It was magical and romantic, and a little bit ferocious.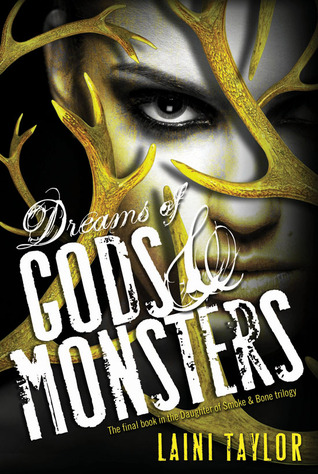 Title: Dreams of Gods & Monsters
Author: Laini Taylor
Publishing Information: April 8th 2014 by Little, Brown & Company
Genre: Young Adult, Fantasy, Paranormal, Romance

Series Information: Book 3 in the Daughter of Smoke & Bone trilogy
Format: Hardcover, 613 pages
Source: Purchased for my personal library
Recommended For: Readers looking for a deeply intense novel of love and redemption
Related Reviews: Daughter of Smoke & Bone (Daughter of Smoke & Bone 1), Days of Blood & Starlight (Daughter of Smoke & Bone 2)
If you're reading this you have either read Daughter of Smoke & Bone and Days of Blood & Starlight and want to see how the series ends, or you have yet to read those two and want to know if it is worth it. If it's the former, go read Dreams of Gods & Monsters immediately, stop wasting your time!! If the latter, see above statement GO FORTH AND READ!!
"Some things are always simple. Magnets, for example."
Honestly I was scared. I was so scared to start this conclusion to a beloved series that I bought the book the day it came out and started it over a month after. Then I put it down and didn't finish it for another month. You see, that is what happens with me and books that take hold of my soul, books that root themselves deep within me that I feel as if I am breathing them to life, I can barely go on. So it was with Dreams of Gods & Monsters. I had hopes, I had dreams, and I was so afraid of being broken. The angst I felt while reading the first two books was nearly too much to handle and I wasn't sure that I could take the series concluding in the same way. Oh, I am so happy to say that Laini Taylor delivered. Yes, there was angst, and no it wasn't tied up with a pretty bow and yes some questions were left unanswered but it was also beautiful and magical and hopeful and I am so happy that it rooted itself in my soul. Though Akiva and Karou are at the center of the novel as before, the secondary characters grew so much. I find it nearly impossible to write this review without mentioning the graceful way in which Liraz held herself throughout the novel, she grew into a beautiful character that ultimately stole my heart.
There is so much that can be said for this series as a whole. So many series suffer from a sophomore slump and the conclusion leaves readers dissatisfied. I know that some readers had some qualms about Dreams of Gods & Monsters and if I am being honest the only thing that I would change would be to ensure that there was more to the story…because there has to be more. How can there not be more? Please, please tell me there is more…
There is too much, and not enough to say. I am completely enamored with this series.