Readers, you are the luckiest today! SUPER excited today to have Becky from Stories and Sweeties join me today because not only is she reviewing a book that I have been dying to read, but she is giving us an AMAZING cupcake recipe. Take it away, friend!
D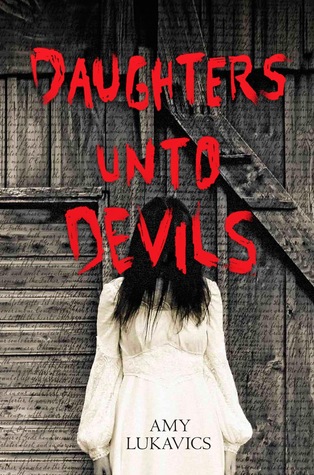 aughters Unto Devils by Amy Lukavics
Publisher: Harlequin Teen
Release date: September 29th, 2015
Intended audience: Young adult
Stand-alone
Source: from publisher for honest review
Rating: 4
Review: Daughters unto Devils is all the things I want for a perfect Halloween read.  Incredibly eerie atmosphere, a classic horror movie feel to it, a touch of gore, and plenty of spine-chilling scenes that make you hesitant to turn out the light at night—it's all here.
Amanda Verner makes for a great unreliable narrator. The Verner family lives on a mountain side and their isolated family dynamic and extreme piety makes them feel like a bizarre and twisted Little House on the Prairie. They were trapped in their house during a bad winter, clinging to their lives and their sanity, while the flu-stricken mother gives birth to a deaf and blind baby.  Something happened to Amanda that winter, and it's unclear if the isolation got to her head or if she truly saw something in the woods. Her bewildered family questions her goodness and her sanity nearly as much as she does herself. After a secret affair with a boy from town leaves her with child, she finds herself lost and at odds with her only ally, her sister Emma.
At the threat of another bad winters, the family fleas to the plains—and that's where the creepy really sets in. Terrifying things start happening, you get a few of those classic horror moments where you find yourself yelling at the characters, "No! Why would you do that?!" The haunting past of the plains and their new house takes its toll on the whole family until things spin out of control and culminate in a wildly gut-churning end.
There are definitely no shortage of disturbing scenes in Daughters Unto Devils—not for the faint-hearted, but absolutely perfect for readers looking for a truly horrifying Halloween read.
Devilishly Sweet Cupcakes
I've come up with a Halloween treat to perfectly accompany you while you dive into Daughters Unto Devils!  Rich devil's food cake, fluffy cream cheese frosting, and a bloody good surprise inside! 😉
For the cupcakes:
3/4 cup cocoa powder
2/3 cup boiling water
1/2 cup milk
1/2 cup brewed coffee
1-3/4 cup flour
1/2 tsp baking soda
1/2 tsp kosher salt
3/4 cup unsalted butter
1 cup granulated sugar
1/2 cup brown sugar
3 eggs
2 tsp vanilla extract
Cherry pie filling
In a small bowl, mix boiling water into cocoa powder. Add milk and coffee. Mix until smooth, then set aside.  In a separate small bowl, combine flour, baking soda and salt. Set aside.  In a mixing bowl, blend butter and sugars. Add eggs one at a time, adding the vanilla in with the last egg.  Next, alternately add in cocoa mixture and flour mixture until all ingredients are combined and you have a smooth batter.
Line cupcake pans with paper liners. Fill each liner with batter a little more than ¾ of the way full. Bake for 18 minutes at 390○ or until a toothpick inserted in the center comes out mostly clean. Cool cupcakes completely.
For the filling, use a knife or teaspoon to scoop out a small hole into the center of each cupcake. Fill with cherry pie filling until level with the top of cupcake.
Cream Cheese Frosting:
½ unsalted butter (1 stick—do not use spreadable butters or margerine)
6 oz cream cheese at room temperature
3 cups powdered sugar
1 tsp vanilla
Beat together butter, cream cheese and vanilla until thoroughly combined.  Add in powdered sugar a cup at a time and mix until smooth. Beat an additional minute to make frosting nice and fluffy. Dollop or pipe cream cheese frosting onto each cupcake, completely covering the hole for the filling.
For the "blood" drizzle, in a small bowl, mix 2 tablespoons of the cream cheese frosting, 1 tsp of cocoa powder, and about a tablespoon of milk (or just add milk until you get a good thin consistency for drizzling.  Add drops of red food coloring until you get a nice deep blood red.
The cleavers are from Wilton, you should be able to find these around Halloween time at any Michaels, Target, or anywhere that carries a good variety of cake decorating supplies. Knives and axes are also available!
Happy Halloween, everyone!
Wow, this was amazing. I can't wait to read Daughters Unto Devils now even more!! I do love me a creepy read. Let's talk about these cupcakes, though. First of all, LOOK AT THEM!! They look amazing! Everything I try to make like this always comes out as a Pinterest fail. At least I can get the taste down, eh? Off to make these awesome goodies, thank you Becky!! Friends, make sure to check out Becky's blog as she has some AMAZING things going on!