Readers, you are the luckiest today! SUPER excited today to have Becky from Stories and Sweeties join me today because not only is she reviewing a book that I have been dying to read, but she is giving us an AMAZING cupcake recipe. Take it away, friend!
D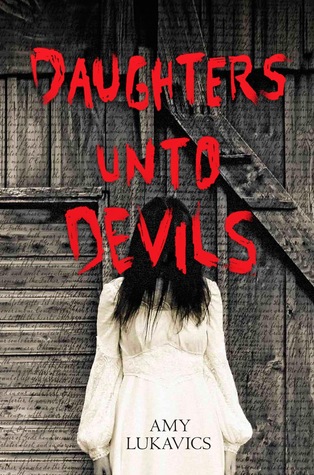 aughters Unto Devils by Amy Lukavics
Publisher: Harlequin Teen
Release date: September 29th, 2015
Intended audience: Young adult
Stand-alone
Source: from publisher for honest review
Rating: 4
Review: Daughters unto Devils is all the things I want for a perfect Halloween read.  Incredibly eerie atmosphere, a classic horror movie feel to it, a touch of gore, and plenty of spine-chilling scenes that make you hesitant to turn out the light at night—it's all here.
Amanda Verner makes for a great unreliable narrator. The Verner family lives on a mountain side and their isolated family dynamic and extreme piety makes them feel like a bizarre and twisted Little House on the Prairie. They were trapped in their house during a bad winter, clinging to their lives and their sanity, while the flu-stricken mother gives birth to a deaf and blind baby.  Something happened to Amanda that winter, and it's unclear if the isolation got to her head or if she truly saw something in the woods. Her bewildered family questions her goodness and her sanity nearly as much as she does herself. After a secret affair with a boy from town leaves her with child, she finds herself lost and at odds with her only ally, her sister Emma.
At the threat of another bad winters, the family fleas to the plains—and that's where the creepy really sets in. Terrifying things start happening, you get a few of those classic horror moments where you find yourself yelling at the characters, "No! Why would you do that?!" The haunting past of the plains and their new house takes its toll on the whole family until things spin out of control and culminate in a wildly gut-churning end.
There are definitely no shortage of disturbing scenes in Daughters Unto Devils—not for the faint-hearted, but absolutely perfect for readers looking for a truly horrifying Halloween read.
Devilishly Sweet Cupcakes
I've come up with a Halloween treat to perfectly accompany you while you dive into Daughters Unto Devils!  Rich devil's food cake, fluffy cream cheese frosting, and a bloody good surprise inside! 😉