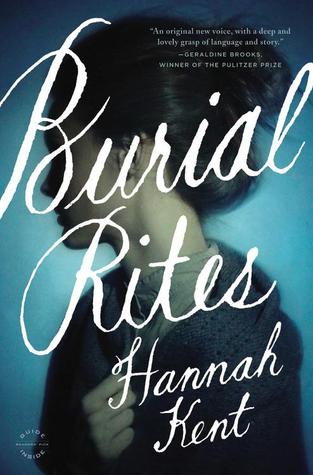 Title: Burial Rites
Author: Hannah Kent
Publishing Information:  September 10th 2013 by Little, Brown and Company
Genre: Adult, Historical Fiction, Mystery, Crime
Series Information: Standalone
Format: Hardcover, 314 pages
Source: Obtained an ARC from the publisher at BEA 2013
Recommended For: Readers who enjoy historical fiction with vivid setting and to be quite honest, no hope throughout.
Related Reviews: Brittany's Post on Historical Fiction and Amy's Post
Here we are back for another On the Same Page post from your Gals on the Same Page. I realize that we usually do something a little different for these posts and I would but unfortunately I can't bring myself to do anything creative with something representing this novel.
In truth, it is hard for me to put my feelings into words in regards to this novel as the novel itself invoked very little emotion in me as I was reading. I can't write a ranty review for you, because the novel didn't anger me, and it surely didn't make me weep as it did so many others. At the most I felt frustration that it was taking me so long to get through the whole thing, and upon completion couldn't help but think, "FINALLY, I AM DONE!!" along with, "that was it?" Clearly going into this novel one knows how it ends, so I didn't expect it to make me cry as I prepared myself for it to be sad. I did, however, expect the novel to make me feel compassion toward our main character, Agnes. In truth, as I neared the end and got the final tidbits to the story I did have a moment to think about how sad the situation was for this character but I couldn't help but think that circumstances surrounding her situation were brought on by her own choices. Maybe I am overly judgmental but she made specific choices to be in that place at that time, and I just can't believe that she was as "strong" and "intelligent" as people said due to these choices.
In addition to our main character we are introduced to a few other characters first hand, a reverend named Toti, who helps Agnes find God before her execution, who reminded me of a besotted school boy, letting his feelings cloud his judgment. The family who Agnes stays with are not viewed in depth despite them being with Agnes daily, though I did have a fondness for the mother of the family as she seemed no nonsense and rather strong. The character Natan is clearly a very important character in this novel, as it is his murder Agnes is being tried for, and despite viewing many memories of him through Agnes, I still couldn't feel much for him. I am sure some readers will believe that "he had it coming," as he was highly unfavorable, but I just couldn't help by judge Agnes more by the company that she was keeping. The secondary characters of Sigga and Fridrick could have used some more detail as well, though to be fair I can see that despite them playing an important part in Agnes' life, this was her story and not theirs.
One thing I can say about this novel is that it was haunting and the landscape was vivid in my brain as I was reading. I did feel the cold, vast world as Agnes felt it. I understood her overwhelming feelings of loneliness in such a wide open world, and her desire to run away. If anything stuck with me after finishing Burial Rites, it was most definitely the setting.
Shelf Talker: I always hate being the odd one out, the one who wonders if she has read a different book than those who came before. Such is the way with Burial Rites. While I went into this novel preparing myself for overwhelming emotion and heart wrenching characters and what I found was a dull novel filled with characters I couldn't connect with. I hate that it happened – trust me because it took me ENTIRELY TOO LONG to get through this book – and I wish that I had connected more. I do believe that it is an atmospheric read and therefore you may have to be in the "mood" to read it. Unfortunately for me, I couldn't connect with Agnes or her heartbreaking story, and had I not been obligated to read it for my blog feature, I probably would have DNFd it early on.
On the Same Page is a feature here on Books Take You Places that I am hosting along with two of my very dear friends, Amy (Tripping Over Books) and Brittany (The Book Addict's Guide). Essentially, we will be reading one book a month together and then doing a non-traditional review such as a playlist, character analysis, and so on…To find out more about this new feature, head on over to its dedication page!