Hello my friends! This month the gals and I read American Gods by Neil Gaiman! It should come as no surprise to you that I love, love, LOVED it. It is well known that I am a Neil Gaiman fangirl. Therefore, it is no question that people usually come to me and ask questions like, "If I wanted to start reading Neil Gaiman books, where should I begin?" This question is generally so hard to answer because Neil Gaiman is such an interesting author, he writes all types of books, for all ages and levels of enjoyment. Due to his eclectic nature, I think that it is important  to do a reference interview of sorts before recommending any of his books, you may read something by him and loathe it, but then pick up something else he wrote and fall in love. Keeping that in mind I decided I would put together a little guide on Gaiman. If you don't know where to start, read on and let me help!
If you like fairy tales…read Stardust:
Stardust is much more than a fairy tale, and given Gaiman's nature it holds a lot of so called "horror" aspects as well. Stardust is a coming of age novel, a novel about family. It is also a story about different kinds of love. Like those feelings of "love" that really turn out to be just being in love with the idea of who you want someone to be and not who they really are. Stardust has witches, fallen stars, and pirates. It's filled with intrigue, bravery, witty banter, and a sweet romance. The best thing that I can say about Stardust is that it is often compared to The Princess Bride by William Goldman, how can a review get any higher than that? If you enjoy fairy tales, witty main characters, and novels filled with light and dark moments, then Stardust is the book for you.
If you want to laugh out loud…read Good Omens (co-written with Terry Pratchett):
Good Omens is, in a word, brilliant. I am unfamiliar with the work of Terry Pratchett (I know, I KNOW) but I am looking to pick up his Discworld series immediately due to my love for Good Omens. In a nutshell, Good Omens is a story about the coming of the apocalypse. It's the story of the angel Aziraphale and demon Crowley, who would rather it didn't interfere with their very spoiled lives, thank you very much. What comes next is a novel full of shenanigans from a mass of people who are trying to prevent the end of the world, not to mention find the Antichrist who is somewhere, being raised by a rather regular sort of family. Hilarity ensues, as Aziraphale and Crowley do their best to save the world while also trying to maintain some sort of dignity. If you can, listen to the full cast audio of this one as it is rather fantastic.
If you need something to read aloud to the kids…read Fortunately, the Milk: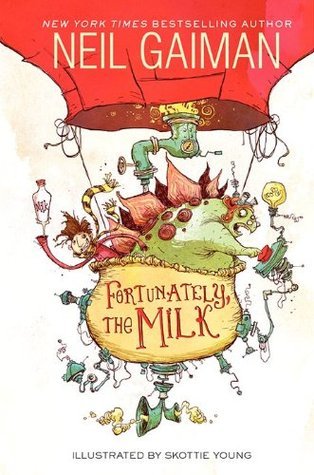 I say read this aloud to your kids but if I am being honest I laughed out loud to myself while reading this while on the train home from NYC. Fortunately, the Milk is a great read aloud as it is funny and quick, not to mention the fact that it is filled with wonderful illustrations. Fortunately, the Milk is a hilarious story of time travel, and dinosaurs, and of the love of a father who really just wants to get home to his kids who are obviously in dire need of some milk for their morning breakfast.
If you like fables, mythology, superheroes and some philosophy…read Sandman:
That's right. Sandman has all of these things and more. I wasn't much of a reader of graphic novels before I picked up Sandman, but now I am completely hooked. So much happens throughout this series but ultimately the reader is taken on many journeys through many different places and time. We travel through Hell at one point, and Shakespeare's time, and to an inn at the world's end. We meet some superheroes, and some different gods and goddesses. I love this series so much because so much happens in each volume that re-reads are absolutely inevitable. Our main character, Morpheus, is one of the seven Endless (Destiny, Death, Dream, Destruction, Desire, Despair, Delirium) and as our title character much of the story revolves around his troubles. The only thing (potentially) negative is that I want MORE from the other Endless. NEED more, please. Continue reading →